Opportunities
A leader in the inclusive arts movement, H'art Centre has introduced more than 20,000 people to the creative abilities of people with disabilities and those facing barriers to participation in the arts. We have delivered workshops at The National Power of Arts Forum of the Michaëlle Jean Foundation, Ontario Association for Developmental Disabilities, Toronto's Creative Spirit Festival, and the Summit for Social Inclusion. We are members of the Canadian Network for Arts and Learning and the Ontario Arts Education Association.
We offer a range of career opportunities for people interested in exploring inclusive arts and our own MixAbilities Inclusive Arts Training Program. Below, you will find the details of our latest opportunity.
The latest call for EMPLOYMENT applications is now CLOSED. Thank you to everyone who applied.
The latest call to community artists to take part in the MIXABILITIES INCLUSIVE ARTS TRAINING PROGRAM is now open. We aim to offer this opportunity several times per year. We announce these calls in our e-newsletter. Subscribe to be sure you don't miss it.
Discover more about H'art Centre
Facebook: @HartCentreKingston
Twitter: @HartCentre
Instagram: @hartcentre
Talk to one of our amazing staff members today: 613-545-1392
__________________________________
CALL TO COMMUNITY ARTISTS
MixAbilities Inclusive Arts Training
Letters of Interest & Bio/Resume Due: June 3, 2022
H'art Centre invites Kingston's artists and arts educators to apply to attend the upcoming round of MixAbilities inclusive arts training. We designed MixAbilities to help local artists/educators learn to:
1) Increase your awareness and understanding of inclusive and accessible arts.
2) Effectively and empathetically support an interested community of all abilities to participate or contribute to the arts.
3) Develop your skills and confidence as inclusive artists/educators, and;
4) Increase your knowledge and understanding of the value of arts for this population.
Our primary goal is to grow our roster of trained community artist-instructors. Many, after learning these basics, have used their skills in the 
H'art Studio
 program at H'art Centre and others have applied their expertise and adapted their learning in order to craft inclusive art experiences in the wider community.
OVERVIEW 

May 12, 2022 – May 31, 2022
We will invite local community artists to express interest in attending a MixAbilities training session to be held on June 25,  2022.
June 25, 2022
Facilitator Karen Dolan will guide up to 10 community artists through MixAbilities modules 1-5 in THE MIX at H'art Centre. Using the H'art Studio program as an example to explore the importance of inclusive arts training, the group will complete modules on communication techniques, lesson planning, creative space considerations, and arts-based instructional strategies. After a short lunch break, the community artists will be introduced to H'art's Workshop Application and its supportive resource guide that will help create an inclusive workshop. Towards the end of the day, Karen will introduce local artist-instructors and/or artists to share their experience in the inclusive arts with the group. The day will conclude with a wrap-up and reflection Q&A. There are no fees for this training session thanks to the generosity of the Edward and Anna C. Churchill Foundation. If you would like to complete the full MixAbilities Training, you can then register to take part in module 6, a two-part practicum scheduled at a later date. 
Practicum Details: July-August
For those community artists opting to complete the full MixAbilities Training, you will complete module 6 practicum during the summer. You will deliver the workshop created in the previous session to H'art Studio artists. Karen Dolan and H'art staff will observe the delivery of the workshop, document the execution of learned strategies, and provide feedback. In addition, interested participants may wish to take a module on our Zoom best practices and deliver a short online workshop.
ABOUT MIXABILITIES
H'art Centre has introduced over 1500 volunteers, placement students, community artists, and arts educators to our approach since 1998. We launched the MixAbilities Inclusive Arts Training Program, a formal blueprint of our approach to meaningful arts programming in 2018. MixAbilities received the City of Kingston's Celebrating Accessibility Awards in 2018.
ELIGIBILITY
Community artists and/or arts educators are eligible to apply. In your letter of interest, please indicate your developed skills through training or practice, any recognition you have received in your artistic tradition, history of public presentation or publication, and how you are actively practicing your art.
Spaces are limited, please send a short letter of interest and bio or resume. Please let us know if you need to submit your interest in a different format.
H'art Centre is strongly committed to equity and values diversity. H'art Centre is an equal
opportunity employer and encourages applications from equity
groups. Applications from disability-identified persons are strongly encouraged. 
KEY DATES
May 12, 2022: Call to artists opens.
May 31, 2022: Call to artists closes.
June 3, 2022: Letters of intent and resumes due.
June 10, 2022: Final successful applicants notified.
June 25, 2022: MixAbilities Training Session
July 18 – August 12, 2022: Opportunities to complete a practicum. To be scheduled
We will offer a four-hour practicum in the summer. (Note: This is optional, but required if you want to complete FULL MixAbilities training.)
About the MixAbilities Inclusive Arts Facilitator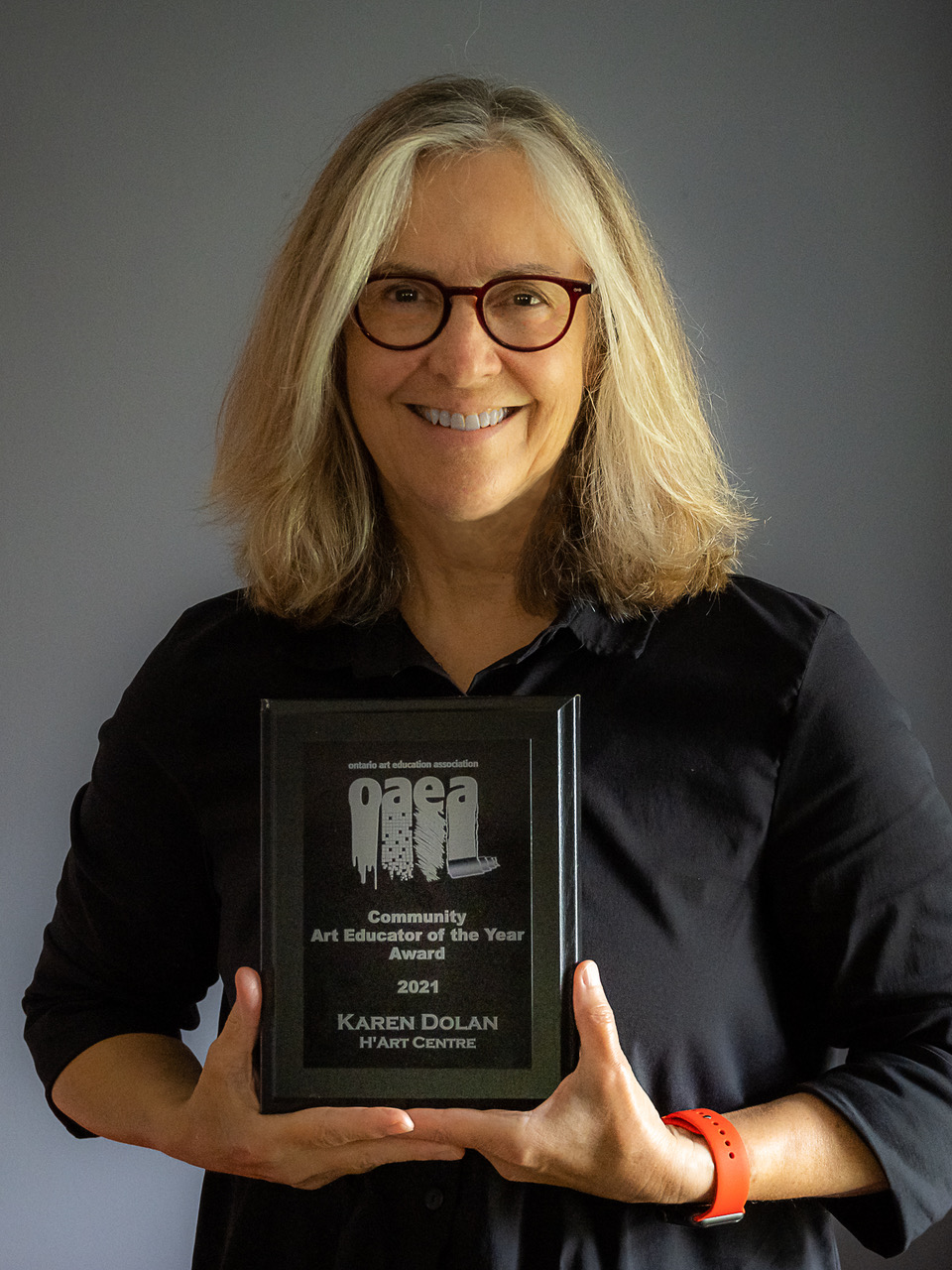 Karen Dolan is an artist, teacher, and arts advocate. Karen's interest in drawing, painting, sculpture, photography, and design began as an adolescent and led to her decision to study art beyond high school with the dream of becoming an artist. In 1972 Karen began her fine art training at St. Lawrence College in Kingston, Ontario, followed by York University, in Toronto, Ontario. In 1975 Karen returned to study in Kingston and in 1978 graduated from Queen's University in the Bachelor of Fine Art program. Soon after graduation, Karen decided to be a teacher in the arts, a profession that held the promise of inner and professional fulfillment, and sharing her passion for art, would keep her in touch with her creativity. Karen found work in Kingston as a secondary school art, photography, and physical education teacher, her educational experience included students with a wide range of abilities. As a mother to Ryan, Brianna, and Mariah Karen balanced her role as a parent and teacher with her various artistic and personal fitness pursuits. Karen had been a long-time enthusiast of traditional black and white film photography but in 2005 discovered the digital darkroom. Karen embraced the digital world by participating in many digital photography workshops and incorporated the digital workshop format into her classroom photography curriculum. After retiring from teaching in June 2010 Karen worked for the Kingston Arts Council as Executive Director from 2011 to 2015, serving the Kingston arts community by supporting and promoting the creation and presentation of all artistic expression. She received the
2021 Community Art Educator of the Year
Award from the Ontario Arts Education Association in her role as MixAbilities Facilitator.
MIXABILITIES BACKGROUND
First recommended by educator and past Board member Bonnie Henderson, the training program was shaped by former board member Peter Wolf and graduate student (MA International Education) Sarah Carroll with input from H'art staff Anita Boldt throughout 2018. We completed the pilot testing phase of this project in 2018-2019. For 13 weeks, six artists/educators participated in the pilot to evaluate the program. We modified the material content, layout, and design throughout the pilot phase based on feedback from the initial participants. After our pilot phase, we received the City of Kingston 2018 Celebrating Accessibility Award in the category of Education for our efforts. ArtBridges, a hub and forum for connection for anyone interested in or active in community-engaged arts and arts for social change in Canada, documented the development of the program in their Tips & Tools series. In 2019, H'art Centre received an Ontario Arts Council Market Readiness grant to adapt MixAbilities in a way that will effectively share our expertise with arts organizations, collectives, and groups. It resulted in the 
Inclusivity Guide
. You can use this tool to evaluate the accessibility of future workshops.
ABOUT H'ART CENTRE
H'art Centre is an award-winning, registered not-for-profit, charitable community arts hub that provides artists with disabilities and those facing barriers with opportunities to create, study and produce works in the arts and collaborate with qualified, trained community artists.
We do this to nurture a vibrant, exciting, and supportive culture that encourages artists, staff, volunteers, and audiences to reach beyond limiting beliefs and expectations. To value and recognize artists individually for their abilities, and to share this understanding with the world
ABOUT H'ART STUDIO 
We deliver a high-quality arts program for adults with developmental disabilities. Since 1998, our H'art Studio program has been offering adults with developmental disabilities the opportunity to reach their highest potential through the arts and indirect learning. The H'art Studio program offers artists a chance to build important skills while engaged in the practice and enjoyment of visual arts, music, theatre, dance, media arts, and literary arts.
Expressions of interest and resumes must be submitted by 4:00 pm on June 3, 2022
We would like to thank the Anna and Edward C. Churchill Foundation for its ongoing support of this training program.
On April 15, H'art Centre and the Marine Museum of the Great Lakes at Kingston announced a new...
read more
Join Us
We offer a range of opportunities for people interested in exploring inclusive arts.

H'art Centre is located below Good Life Fitness. The building's main entrance is off of Barrack Street. Wheelchair access and audience access to THE BOX inclusive performing arts space is available through the entrance on Wellington Street.
237 Wellington St., Kingston, Ontario, K7K 0B5