H'art Centre is pleased to announce Karen Dolan, its MixAbilities Inclusive Arts Training Program Facilitator, received a 2021 Community Art Educator of the Year from the Ontario Arts Education Association at a virtual ceremony held last night.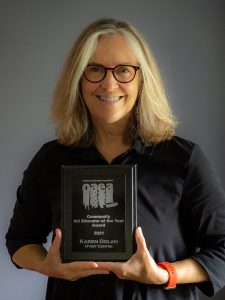 The Community Art Educator Award recognizes excellence in visual arts education in a museum or community setting and leadership in and/or contributions to art education in the candidate's institution, organization, or community.  The adjudication was done by visual art teachers who are past award winners and represent both elementary and secondary schools. as well. Ontario Art Education Association represents teachers of visual art in the province.
Dolan is an artist, a teacher, and a passionate advocate for the arts. She studied at St. Lawrence College, York University, and Queen's University.  After earning her Bachelor of Education, Karen spent 31 years teaching art, photography, and physical education before retiring in 2010. Karen was nominated for her work facilitating H'art Centre's MixAbilities Inclusive Arts Training.
MixAbilities is a six-module program designed to enhance access to the arts by ensuring artists and educators are trained to effectively and empathetically support participants who are D/deaf and those with disabilities. MixAbilities was developed by former H'art Centre board member Peter Wolfe, graduate student Sarah Carroll, and H'art senior staff member Anita Boldt. Karen joined the H'art team when MixAbilities was in its pilot phase in 2018 and has helped to refine the delivery with input from other educators and participants. She delivered the inaugural program. The program itself received the 2018 City of Kingston Access Award in the category of Education.
"I have been fortunate to act as facilitator of MixAbilities Inclusive Arts training at H'art Centre," said Dolan. "Observing community artists share their expertise with H'art members has been a very rewarding experience. H'art Centre is a very special place, filled with caring people."
For more about the Award:
https://ontarioarteducationassociation.org/awards/