The first in a series of Finding Good art sales is here –– and available to you online! This collection features 14 painted wood sculptures. The sculptures depict the helpers in our community. Look for a celebration of doctors, teachers, nurses, zoo keepers, 911 operators and others!
"911 operators find the people that need help, they tell the first responders where to go, they calm down the callers and figure out what is wrong. They gather information and explain how to stabilize an injured person. 911 operators are awesome, and they save lives," wrote H'artist Maeghan.
This year, H'art Studio artists are taking part in monthly visual art workshops. These workshops aim to help H'artists focus on "finding good" during this difficult time. Future Finding Good art shows may feature nature, gratitude, and more.
You can download the Finding Good: Helpers catalogue here.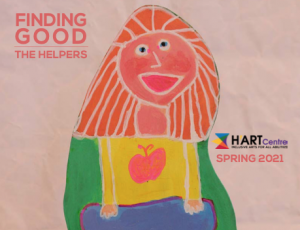 HOW TO PURCHASE ITEMS IN THIS CATALOGUE
1. Note the title and artist name in the item description.
2. Call 613-545-1392 or contact us to see if it is still available.
3. Pay for your item by e-transfer. We can also accept cash, but not credit.
4. Pick up your art at an arranged time. Please note: We will arrange art pick up time slots after the provincial stay-at-home order which lasts until May 6. 
5. Enjoy!
Need it shipped? Let us know and we can calculate the shipping cost before payment
The pandemic and recent stay-at-home provincial orders have posed challenges to presenting the major art projects for which H'art is known. Large annual exhibits and performances were cancelled in 2020. So, H'art Studio artists will present several regular art projects like this one this season. Stay tuned for the next one!