We decided to create a new way for H'art collectors to interact with the work on sale. The long-awaited Small Things art sale is here –– and available to you online!
We postponed the sale in the spring but didn't forget the work that went into this collection. To create work for this sale of "small things", H'art Studio artists took part in textile workshops with artists Isidora Spielmann and Margaret Hughes and a jewelry-making workshop with designer Janet Ross last winter. We hope the work reminds you to appreciate the little things in life and to focus your attention on what nurtures you.
The sale has ended. Thank you to everyone who purchased the artwork.
You can still view the catalogue here.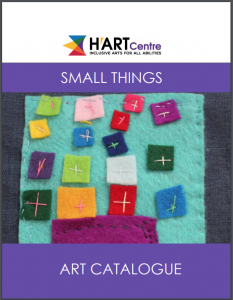 Questions, please let us know!