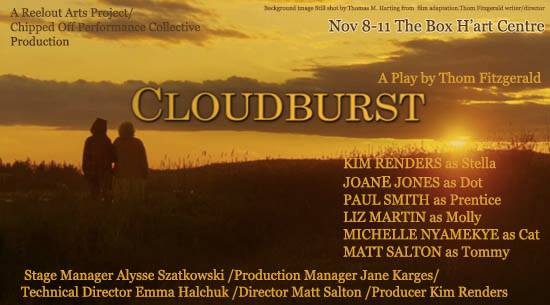 Reelout Arts Project Inc. & Chipped Off Performance Collective present CLOUDBURST a play by Thom Fitzgerald
Venue
THE BOX
237 Wellington Street
Kingston, Ontario
Reelout Arts Project Inc. & Chipped Off Performance Collective present CLOUDBURST a play by Thom Fitzgerald. The play runs Wednesday, November 8th – Saturday, November 11th, 2017 in The Box, H'art Centre on Wellington St (under GoodLife Fitness). This is the original stage play that Fitzgerald later adapted into his crowd-pleasing film. Stella (Kim Renders) and Dotty (Joan E Jones) are a lesbian couple from Maine who embark on a Thelma and Louise-style road trip to Nova Scotia to get married after Dotty is moved into a nursing home by her granddaughter (Liz Martin). Along the way they pick up Prentice (Paul Smith), a hitchhiker travelling home to Nova Scotia to visit his dying mother (Michelle Nyamekye), and the three bond deeply as they travel. Directed by Matt Salton. Audience Advisory: Offensive Language Warning
POSTPONED UNTIL FURTHER NOTICE. To help with community efforts during the COVID-19 pandemic, we suspended rehearsals and postponed the April 17 & 18, 2020 performances of Small Things. We will update you about the new schedule and venue when the information is available.
The Vince Love Club is an annual gathering for registered H'art Studio's artists and their family...
An exhibit and fundraiser in support of our next major performance THE BOX, 237 Wellington Street...