The second phase of this program has started. Learn more!
H'art Centre is pleased to offer Young at H'art, a new program for people over the age of 65 who need a little extra support to stay active in the arts. Classes begin the week of September 12, 2016 but you can join at any time if space allows.
Young at H'art is a no-cost opportunity for older adults with disabilities to explore their creative interests and abilities in a welcoming environment. From September to December, experienced artists will teach creative classes in visual arts, storytelling, mixed-ability music and seated dance. You can choose your own interest and activity level. Take part in one class –– or all all of them! The emphasis is on fun, friendship, accessibility, and meaningful activity. Classes are held at H'art Centre, 237 Wellington Street unless otherwise indicated.
H'art Centre is an award-winning, fully accessible space and we strive to provide engaging arts programming to everyone. At H'art, you will find:
Wheelchair ramps;
Classes and washrooms on one level;
Accessible easels;
Classes that can be adapted to a wide range needs and can be done standing, seated, or in a wheelchair; ,
Supportive staff and volunteers; and,
If you need one-on-one assistance, your one-on-one caregiver is always welcome to attend with you.
Registration for Young at H'art is now open. Please contact 613-545-1392 to reserve your space.
Mondays
9:30-11:30 AM
Storytelling with Kirsteen McLeod
Storyteller, poet and author of The Animal Game
Supercharge your storytelling skills in this friendly, inspiring workshop. You will: listen to many fabulous stories; tell your own tales in a supportive group; learn the secrets of structure and performance for compelling stories; do gentle breathing and stretching exercises to help you stay relaxed, and fire up your creative imagination. Gain confidence as a storyteller — and if you are interested, work toward performing your story in December for friends and family.
Tuesdays
10:30 AM-12:30 PM
Seated Dance with Amy Booth / Jackie Mills
Physiotherapist and dancer / Founder of Sit N' Dance
Come dance with us! Dance classes are geared for individuals with Parkinson's Disease, older adults who may need extra support to stay engaged in the arts, their caregivers, spouses, partners and friends are provided in an enjoyable, creative and safe environment. Based on the Dance for PD® program developed by the Mark Morris Dance Group and the Brooklyn Parkinson Group, and seated dance. You will explore elements of modern dance, ballet, folk and social dancing in a non-pressured, stimulating, enjoyable, social environment. No dance experience is required. * This is an outreach class and will be held at: 1499 Stoneridge Drive, Kingston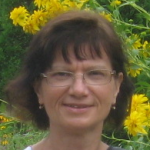 Thursdays
9:30-11:30 AM
Mixed Ability Music with Kathi Toth Switzer
Teacher and Kingston Symphony musician
You will be developing musical skills through – speech, singing, body percussion, movement and instruments in this blended class.  Learn simple musical ideas through imitation, exploration and improvisation, slowly adding layers of simple ideas to build rich musical experiences.  No experience necessary; this class is tailored to your level of ability. Join us for a fun way to engage your body and mind through simple musical experiences. 
Fridays
9:30-11:30 AM
Visual Arts with Erika Olson
Join us for a painting class, no experience needed ––just a happy spirit and desire to have fun! We have easels that were built to accommodate wheelchairs. You can work toward a private exhibit for family, friends, and grandchildren if you wish.
We gratefully acknowledge the support of:
Ontario Trillium Foundation, Seniors' Secretariat, Anna & Edward C. Churchill Foundation, Harry Foster Foundation, Cataraqui Rotary Club, Kingston Rotary Club, Empire Life, Connie Armstrong, Jim Brown & Joan Lee, Nancy & Bill Gray, Kim Donovan, Alicia & Barry Gordon, Virginia and John Gordon, Peter Kostogiannis, Julie Ann and Michael May, Pam McMillan & Norman Dupuis, Lillian Porter, Dr. Leslie Shanks, Dr. Jonathan Standley, Kathi Toth Switzer, Ed Vreeke, and Tom Wightman
Registration for Young at H'art is now open. Please contact 613-545-1392 to reserve your space.