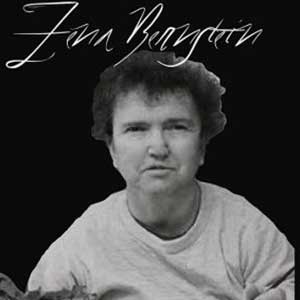 Zena Bernstein
Able Artists 2018-2019
Zena Bernstein received her B.F.A. Degree from Syracuse University and took graduate courses in psychology at Boston College, and gross human anatomy at Columbia University, New York City. She was born in Plainfield, New Jersey and now permanently resides on Horse Thief Bay on the St. Lawrence River, in Canada.
Zena's work focuses on the varied beauty of the natural world. Working primarily in watercolours and acrylics, her drawings depict world she has observed in Horse Thief Bay complete with wild flowers, animals, fairies, elves, and trolls. Believing in the importance of protecting the world around us, her art becomes its advocate.
Her technique of using layer on top of layer of dots is a very slow but rewarding process. Using a very dry brush, each dot is laid on individually, through a technique called pointillism. Beginning with the lightest of colour first and slowly building up the layers, often applying as many as six.
Her paintings are spontaneous. She does not do any preliminary planning or sketches first, often not really knowing what she is going to paint. "It is more of an adventure that way", she says.
She has recently completed a book on the fairies, trolls, and elves of the Thousand Islands and more specifically, Horse Thief Bay entitled, The Alderwild Wood.
This event gave the audience an introductory consideration of Zena's artistic work and an opportunity to view the premiere of a biographical video. The artist was present.
Made possible with support from signature sponsors Bill & Nancy Gray.

H'art Centre is located below Good Life Fitness. The building's main entrance is off of Barrack Street. Wheelchair access and audience access to THE BOX inclusive performing arts space is available through the entrance on Wellington Street.
237 Wellington St., Kingston, Ontario, K7K 0B5
E: hartinfo@hartschool.ca