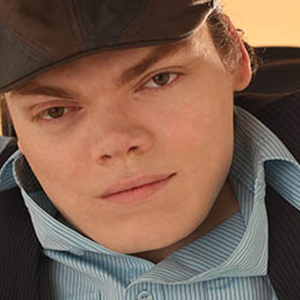 Justin Hines
Able Artists 2014
Even though Justin Hines grew up singing in church at his grandmother's behest, his realization came at the most unlikely of places— at a Toronto Raptors' basketball game in his hometown 15 years ago. A then-14-year old Hines won a vocal competition to sing the National Anthe at the game and his world opened up before him. Thrown in the deep end, Hines, who has performed professionally ever since, realized he could not only survive, but thrive. But then again, Hines has thrived all his life against odds that would daunt someone with a less indomitable spirit. Hines has Larsen Syndrome, a joint dislocation condition that confines him to a wheelchair. Hines has performed across the globe, throughout Europe, the Middle East, China and North America. He has performed at the Beijing Olympics, supported by Sheila E, the Vancouver Olympics as well as the 2011 Pan Am Games in Mexico. His natural optimism permeates much of his American debut, "Days to Recall," the singer/songwriter's collection of heartfelt songs about life and love. The album's 2011 release coincided with a PBS special of Hines in concert taped at Toronto's Royal Cinema with special guests Ron Sexsmith, Natalie MacMaster, Donnell Leahy, Sierra Noble and the Canadian Tenors. The special has had over 400 airings across North America to date.
Justin Hines deliver a free Music & Inspiration Workshop along with the Canadian folk-pop duo, Ash & Bloom for local high school and post secondary students and educators. 
Music Inspiration Workshop
H'art Centre teamed up with acclaimed singer-songwriter Justin Hines' on this performance to remind Kingston that everyone has something to say, no matter what their ability.
Say What You Will

H'art Centre is located below Good Life Fitness. The building's main entrance is off of Barrack Street. Wheelchair access and audience access to THE BOX inclusive performing arts space is available through the entrance on Wellington Street.
237 Wellington St., Kingston, Ontario, K7K 0B5
E: hartinfo@hartschool.ca