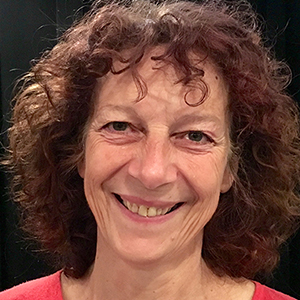 Isidora Spielmann
HAAP! Instructor & Costume Designer
Isidora Spielmann was educated by the National Academy of the Tailors' Guild in Vienna and holds a diploma in graphic design from St. Lawrence College. She has been a designer, artist, teacher, and writer, working with textiles, fine clothes, costumes, ceramics, and performance. Her works have been displayed at The Riverguild in Perth and at Chris Reynolds Designs in Westport, as well as Spring and Fall Studio Tours (Westport), The Wearable Art Show (Richmond Hill), The Maker's Hand Show (Picton Arts Council), and One of a Kind Show (Toronto). Isidora has been teaching fabric art at H'art Centre since 2013 and has created her own workshops in weaving, sewing, painting, and sculpture since 1998. She has been a costume designer for many H'art Centre productions.
About Isidora's HAAP class
Multi disciplinary, hands-on, visual, textual, imaginative, imaginary, individual, encompassing, joyful.
Isidora brings baskets of possibilities, ranging from costume making and puppetry to cross stitch, colouring, water colours, paper sculpting, to beading. Isidora observes her participants, if she sees a tendency towards a certain medium, she will bring it to that individual.
Her weekly art class has gelled into 'Art Club', where participants can join in to the activity of the week or continue with their own project. It is a place where people can meet in a relaxed way. Where some who only see each other at the dining table, can have a pleasant interaction, enjoying each other's works.

H'art Centre is located below Good Life Fitness. The building's main entrance is off of Barrack Street. Wheelchair access and audience access to THE BOX inclusive performing arts space is available through the entrance on Wellington Street.
237 Wellington St., Kingston, Ontario, K7K 0B5