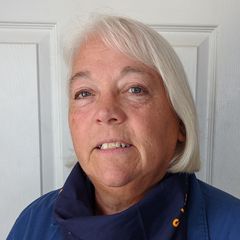 Dale Abel
ASL – English Interpreter
Dale Abel has been taught ASL and interpreting skills by the Deaf communities of Sarasota, Florida; London Ontario  and Belleville Ontario over the span of 4 decades.  She worked 1990 to 2014 at the oldest school for the Deaf in Canada, the OSD, Belleville, also known as The Sir James Whitney School. In those years she was blessed to work with children and adolescents and adults who are Deaf and with various gifted interpreters. With her retirement at the end of 2014 her work continued in the community at large. Dale primarily provides interpreting services in Eastern and South Western Ontario; She was a part of the interpreting team for a Deaf tour in Israel in 2018. She is willing to travel.
Dale also shares Safe Havens* in ASL and English with Norwex products.
Dale G. Abel
Canadian Association of Sign Language Interpreters CASLI🍁 member

H'art Centre is located below Good Life Fitness. The building's main entrance is off of Barrack Street. Wheelchair access and audience access to THE BOX inclusive performing arts space is available through the entrance on Wellington Street.
237 Wellington St., Kingston, Ontario, K7K 0B5