The public phase of a $30,000 campaign to expand already benefiting from community support 
Yesterday, H'art Centre and some early supporters launched the public phase of a fundraising campaign that will see the organization expand into a neighbouring space. The Mix It Up campaign is an effort to raise $30,000 in support of the expansion into a 4,000 square foot space to be called THE MIX and a year of pilot programming. H'art aims to complete the campaign by early December.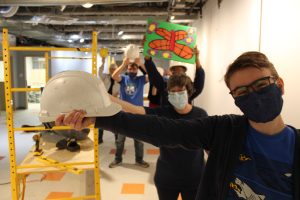 The launch of the public phase of the campaign on Thursday comes as H'art Centre is nearly two-thirds of the way towards its goal with additional pledges of support rolling in.

"This expansion into THE MIX will bring people with disabilities, the D/deaf community together with more inclusive arts facilitators, inclusive community arts groups, and emerging inclusive theatre companies," said Katherine Porter, Executive Director of H'art Centre. "Under one roof, they can offer outreach workshops, train, develop, rehearse, and collaborate. We see THE MIX as an inclusive arts incubator."

The new space includes two workshop spaces, retail and office space, and a 50-foot public art gallery. The campaign will raise funds to cover the costs of the physical expansion and to set up pilot-year outreach workshops and theatre residencies.

Early supporters including Josée Thériault of Thériault Wealth Management Team of RBC Dominion Securities and Bill Gray attended. They spoke alongside representatives from inclusive theatre groups PeerLess Productions and Deaf Spirit Theatre, as well as Camille Spencer who represented her adapted dance workshop. More collaborators will be named throughout the season and into 2022. The organization's training program, MixAbililities will also find a permanent home in the space

H'art was responding to a need for additional space to ensure the safety of participating artists, staff, and volunteers during the ongoing pandemic situation, but recognized an opportunity to further their vision and mission to support and grow inclusive arts for all abilities.

"We started renovating the space in September during the quiet phase of the campaign," said Porter. "It was an act of trust in our community. We knew if we took this step during such an uncertain time, the Kingston community would be there to support us. I need to thank our board of directors and our earliest supporters who responded so fast and pitched in to get us to where we are.
Read more about the campaign for THE MIX.