On December 13, representatives from H'art Centre, Rotary Club of Kingston and Empire Life gathered at Fairmount Home to celebrate the "Go Wireless" pilot project with Fairmount Home's leaders, recreation staff and residents.
Five Smart TV monitors, multiple headsets, and a creative resource guide were made available to Fairmount Home's recreation staff and are now a welcome addition to the recreation services as well as to the H'art Accessible Arts Program, H'art's outreach initiative. The investment was made possible through a collaboration between H'art, Empire Life and the Rotary Club of Kingston.
"Empire Life and the Rotary Club have made a remarkable contribution that will allow us to explore a new approach to artistic and cultural engagement for seniors living in long-term care homes," said Katherine Porter, Executive Director of H'art Centre.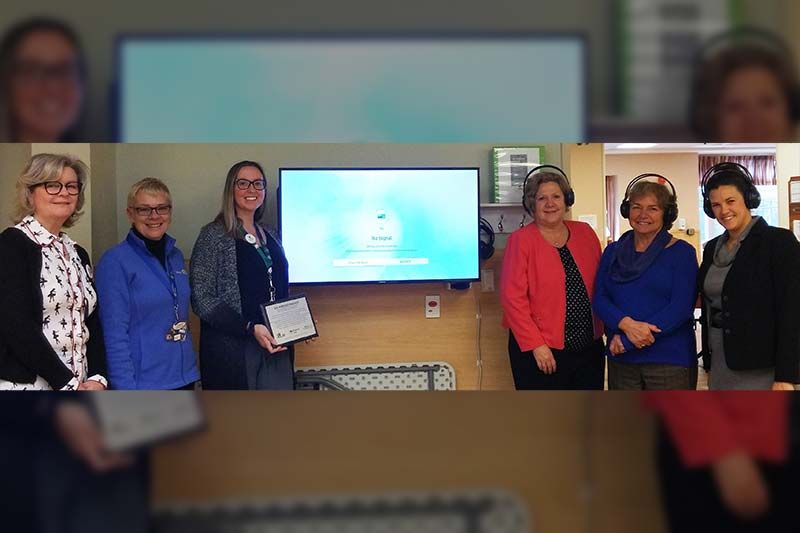 The Go Wireless pilot project's aim is to create a meaningful connection to arts, culture, and community through technology for seniors with disabilities who live in long-term care. The overall objective is to provide engaging programming as an alternative to short periods of inactivity and can also be structured to coincide with art activities happening later in the day or week through the H'art Accessible Arts Program.
Since 2015, H'art Centre has been initiating ways to involve seniors with disabilities in the arts. Most notably, the H'art Accessible Arts Program has been used by a variety of long-term care homes in Kingston to engage professional artists who can keep their residents active and engaged through song, dance, storytelling, painting, and more. More than 300 seniors have been impacted by the effort. Go Wireless is seen by H'art as an enhancement or enrichment of its outreach program.
"We can imagine seniors engaged in pre-recorded HAAP workshops, listening to rehearsal instructions, participating in adapted yoga classes, and even watching live streams of the local community or cultural events," Porter continued. "The sky is the limit. By providing opportunities for seniors with disabilities to stay connected to the creative world, we can create a spark that ignites meaning and happiness."
Long-term care recreation staff will be responsible for ensuring seniors engage in artistic, cultural, and educational programs according to a weekly schedule that addresses issues such as visual and hearing loss, physical disabilities, or neurological conditions and also considers seniors' diverse cultural backgrounds.
"We are looking forward to using technology to help supplement more programming and stimulation for our residents to enjoy for years to come," said Chelsea Cawker, Assistant Director of Care (Resident Services) for Fairmount Home. 
H'art Centre will monitor, evaluate and share the results of the pilot throughout 2019.