H'art Centre's Able Artists series is pleased to present Deaf Spirit Theatre's The Magic of Visual Language, an American Sign Language (ASL) storytelling with signed music, arm puppets, visual media and ASL signs in black light on Saturday, May 20, 2017 at 2 pm in THE BOX at H'art Centre, 237 Wellington Street.
Deaf Spirit Theatre is a collective of three actors who are Deaf from Kingston who are dedicated to excellence in ASL storytelling.
Everyone including Deaf, hard of hearing (HoH), and hearing families/friends are invited to come with your families and friends and enjoy the show!
This performance is being presented for FREE thanks to the generous support of the City of Kingston Arts Fund administered by the Kingston Arts Council.
Call 613-545-1392 or email us to reserve your seat today. You can also reserve your seat online through Eventbrite. Click here!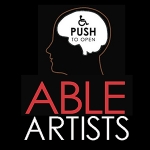 _ctc_event_start_date 2017-05-20
_ctc_event_end_date none
none 14:00
_ctc_event_time
_ctc_event_recurrence none