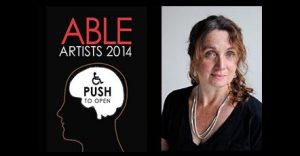 H'art Centre is pleased to host playwright Judith Thompson for an Able Artists talk back session facilitated by director Kathryn MacKay after the matinee performance of H'art Centre & Box Productions co-production of RARE on Saturday, December 6th at 2 p.m. at THE BOX at H'art Centre, 237 Wellington Street, Kingston.
Thompson is a playwright, director, actor and professor of theatre at University of Guelph. She has 16 published plays and has written two feature films and many radio dramas. She has twice won the Governor General's award for drama, as well Doras, the Walter Carsen Award, and the Amnesty International Award for Freedom of Expression. She is the artistic director of the RARE Theatre Company which has produced Sick, Rare, and most recently, Borne.
RARE was first produced at the Toronto Fringe Festival in July 2012 and remounted at the Young Centre for the Performing Arts in January 2013, with the following cast: Created and directed by Judith Thompson with Sarah Carney, Dylan Harman, James Hazlett, Nick Herd, Suzanne Love, Mike Liu, Nada Mayla, Krystal Nausbaum, and Andreas Prinz with musician Victoria Carr.
H'art Centre and Box Productions adapted RARE for a Kingston audience with local performers and the production will complete its sold out run on Saturday, December 6th at 7 p.m.
As a not-for-profit, charitable arts organization that serves people with disability and those facing barriers to participation in the arts, H'art Centre is committed to inspiring the next generation of inclusive arts facilitators through professional development workshops and our Able Artists series. We gratefully acknowledge the Anna & Edward C. Churchill Foundation, the Kingston Arts Council and the City of Kingston Arts Fund for supporting the 2014 Able Artists series.