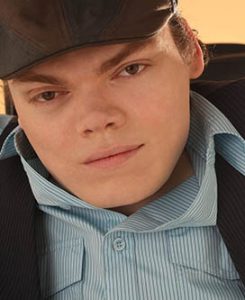 On Wednesday, November 27 at 7 pm, acclaimed singer-songwriter Justin Hines will perform as part of ABLE ARTISTS 2013 at THE BOX at H'art Centre.
Even though Justin Hines grew up singing in church at his grandmother's behest, his realization came at the most unlikely of places— at a Toronto Raptors' basketball game in his hometown 15 years ago. A then-14-year old Hines won a vocal competition to sing the National Anthem at the game and his world opened up before him.
Thrown in the deep end, Hines, who has performed professionally ever since, realized he could not only survive, but thrive. But then again, Hines has thrived all his life against odds that would daunt someone with a less indomitable spirit. Hines has Larsen Syndrome, a joint dislocation condition that confines him to a wheelchair. Hines has performed across the globe, throughout Europe, the Middle East, China and North America. He has performed at the Beijing Olympics, supported by Sheila E, the Vancouver Olympics as well as the 2011 Pan Am Games in Mexico. Learn more at www.justinhines.com 
Tickets are $10. Seating is limited. Reservations highly recommended. Call 613-545-1392 today!