We help people with intellectual disabilities access inclusive higher education.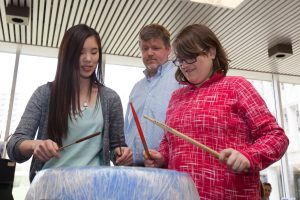 Every year in Ontario, at least 1,000 people with an intellectual disability leave high school when they turn 21. In most places, there is no path to post secondary education.
The H'art Inclusive Post Secondary Education program is a voluntary program that allows adults with intellectual disabilities to study alongside university's students at no cost, taking classes matched to their abilities and interests. This experience is available thanks to a voluntary arrangement with H'art Centre and Queen's University's Faculty of Education.
Participants work hard in the H'art School program at H'art Centre to build the skills they need to take part in the program. Sometimes they work for years to get ready. Participants are assessed for program suitability and attend orientation sessions in the fall.
Volunteer instructors from the Queen's University Faculty of Education agree to open their classrooms. Then, we match participants with courses based on personal interests. Participants transition onto campus in the winter term. There, they take part alongside Queen's students and work towards a 5-year certificate of participation reflecting their class participation. In between classes, they return to H'art for help and some social support. For more help, we pair them with a Queen's student from the student-run STEP Club.
That's it! But it means so much.
Can you open your doors to a student who would not otherwise have the chance to go to university? Contact us today.