We draw on volunteers, artists, and arts educators and give them unique access to our inclusive arts facilitation techniques. 
Our Artists-In-Residence lead classes or workshops with people who have developmental disabilities and support people in the arts through educational methodologies. Drawn from a pool of advanced volunteers, visiting artists, and local arts educators, Artists In Residence gain unique access to our inclusive arts facilitation techniques, opportunities to mentor people with disabilities or barriers, and a chance to share their expertise.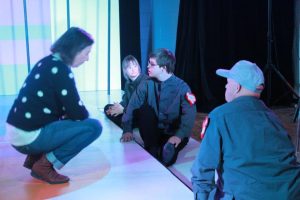 Prerequisites
Three years of experience working in education or the arts and one year experience working with people with developmental disabilities as a volunteer or visiting artist.
Commitment
200 hours leading classes at H'art
Activities
Introductory workshop
Classroom observations
Mentoring (consulting, collaborating, coaching)
Lesson planning
Full class instruction
Goal setting
Training in classroom management and arts-based instructional strategies that address special needs, strategy implementation
H'art Centre will issue a call for interested artists-in-residence. Please subscribe to our newsletter to ensure you hear about these opportunities.